Trike & three-wheel transport made easy
Bidding at H&H auction? We'll bring your classic bike home
Do you like the sound of owning a 1955 Vincent Black Knight or maybe a 1934 Sunbeam Model 95R? Collectors can bid with confidence at the H&H Motorcycle Auction on July 30, knowing that the Moving Motorcycles team can bring their bike home safely.
Up to 320 classic motorcycles will be up for auction at the National Motorcycle Museum, which is directly opposite the NEC, near Solihull in the West Midlands. The auction starts at 1pm. Entry is free and viewings begin at 9am.

Fully-enclosed transporter

Notable consignments include a rare 1955 Vincent Black Knight (one owner from new) with an estimate of £40,000-£45,000, as well as a prototype 1962 BSA A10 Rocket Gold Star (estimate: £35,000-£40,000) used by the factory to develop the iconic model ready for production.
Also featured will be a 1934 Sunbeam Model 95R (£33,000-£35,000) and a 1922 Velocette E3S (£5,000-£6,000). Other attractions include a 1959 BSA A10 Cafe Racer (£3,000-£4,500) and — for the Mods out there — a 1968 Lambretta J125 Starstream (£1,000-£2,000). You can check out the full auction catalogue here. 
Bid With Confidence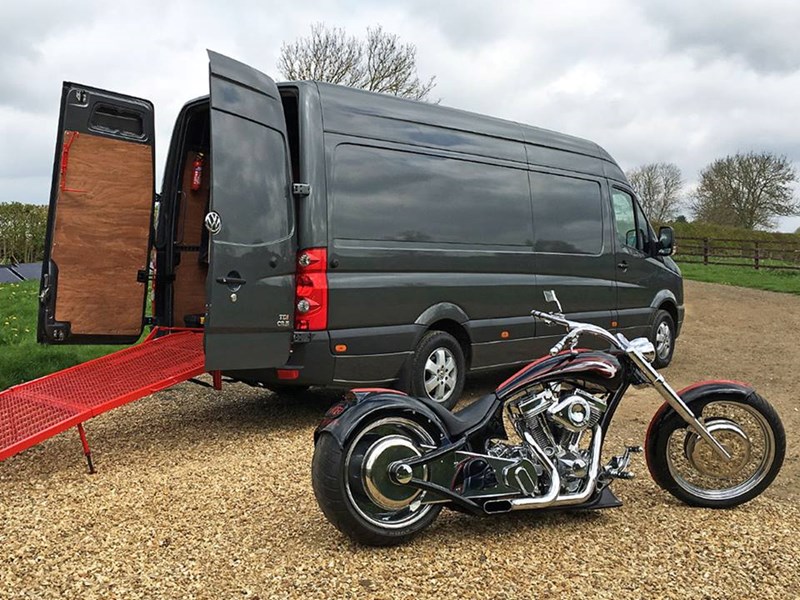 Buyers can bid with confidence, knowing we can collect their bikes and deliver them securely to anywhere in the UK, Europe and beyond — for a competitive price and with adequate insurance. The Moving Motorcycles team will be onsite for the day, ready to get the nod from winning bidders.
If you would like a price for collection and delivery of a motorcycle from the auction, please contact us for a quick quote. And all the best if you decide to bid on the day!
Some reasons you'll want to chose Moving Motorcycles;

We Value Your Property

Clear and Honest Pricing

Our Customer Reviews

We've the Trusted Transporter

Hundreds of Satisfied Customers
"Great service provided. Bike arrived all in good shape from Germany and the guy who delivered it was a pleasure to meet and deal with. All arrangements for collection, Customs paperwork, NOVA, and delivery were made easy. Would highly recommend!"
"How do you move a classic B.S.A from UK to germany after Brexit and in the middle of a carona pandemic?! Answer: easy just ask these guys. Perfect from start to finish, dealt with all the customs stuff. Great communication all the way. Very highly recomended.!"
"We were moving from Kent to Cumbria and after a chat with Giles to discus arrangements, I was confident I had chosen the right company. Our removal date was a bit sketchy but the bikes were collected beforehand and delivered a few days after we had moved in. The drivers were friendly, efficient and professional. I would have no hesitation in recommending them and using in the future. Many thanks to all involved."
So Why Wait? Go Ahead And Get a Free Quote
Why wait to find out how much it will cost to move your bike? Our trusty team is usually able to get back to you in minutes with an accurate quote, and we only need a few details to do it. Get a quote from us today and we'll hold your price for a period of time, depending on your vehicle type, model pickup and drop off destinations.